Sha Models a More Certain Way Forward for Medical Treatments During COVID-19 Pandemic
Lui Sha is leading a team working on a best practice guidance system to help physicians eliminate preventable medical errors.
News | July 30, 2020
Impact Report
The Illinois Computer Science Impact Report highlights the innovations of our students, faculty, and alumni, and it recognizes their contributions to the field of computer science.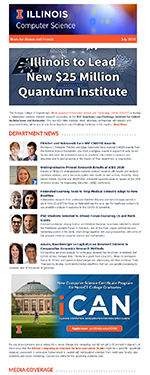 E-News
The Illinois Computer Science E-News is distributed every month throughout the year.