Teaching Workshop
CS faculty and students are invited to participate in the Illinois Computer Science Summer Teaching Workshop, August 10-11.
Year-long certificate program for non-CS bachelor's degree holders to broaden participation in computing.
Positions with Illinois Computer Science
Illinois Computer Science faculty members are pioneers in the computational revolution and push the boundaries of what is possible in all things touched by computer science. Join us and perform world-changing research, lead educational innovation, and prepare highly respected students that are among the most sought after graduates in the field.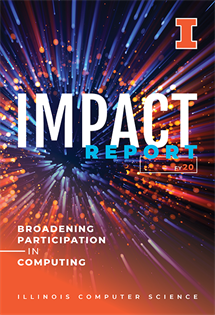 ILLINOIS COMPUTER SCIENCE
FY20 IMPACT REPORT
This report highlights the innovations of our students, faculty, and alumni, and it recognizes their contributions to the field of computer science. See how the Illinois Computer Science community is leading the way.