CS Faculty Fletcher and Solomonik Earn NSF CAREER Awards
Two Illinois CS assistant professors have received CAREER awards from the National Science Foundation—the most prestigious awards in support of early-career faculty who have the potential to serve as academic role models in research and education and to lead advances in the mission of their department or organization.
News | July 8, 2020
Impact Report
The Illinois Computer Science Impact Report highlights the innovations of our students, faculty, and alumni, and it recognizes their contributions to the field of computer science.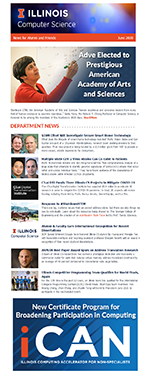 E-News
The Illinois Computer Science E-News is distributed every month throughout the year.