Two with ties to CS inducted into Engineering Hall of Fame
In September, scientific computing pioneer Gene Golub (BS 1953 – math, MA 1954 – math, PhD 1959 – math, Honorary doctorate 1991) and CS alumnus Peng Ong (MS 1988) were inducted into the Engineering at Illinois Hall of Fame, a distinction reserved for engineering alumni and other affiliates who have significant achievements that have impacted society.
Inducted posthumously, Golub was recognized for his preeminence in numerical analysis, building algorithms that laid the foundation for high-speed scientific computing. A native of Chicago, Golub came to Illinois his senior year of college. In his final semester, he took a programming course in mathematics, where he learned how to program for the ILLIAC supercomputer.
After earning his PhD in 1959 under the supervision of Abraham Taub, Golub received an NSF Fellowship and worked at the Mathematical Laboratory at University of Cambridge for 15 months. He worked for several companies—Lawrence Radiation Laboratory and Space Technology Laboratories—before he returned to academia.
In 1962, Golub joined the Computer Science faculty at Stanford, where he remained until his death in 2007. He was chairman of the department from 1981 to 1985.
Golub is well known for creating algorithms and software that allowed researchers to run large engineering and scientific calculations effectively on computers. In 1964, he created an algorithm for computing what's known as the singular value decomposition, or SVD. The algorithm is used in a variety of applications, including search engines, signal processing and data analysis. It is sometimes called the "Swiss Army knife" of numerical computation for its versatility.
His contributions to the engineering and computer science field were internationally recognized, having received 10 honorary degrees from institutions around the world. He co-authored 18 books and about 250 papers during his lifetime. In 1981, he was elected to the American Association for the Advancement of Science. He was elected into the National Academy of Engineering in 1990. Golub received the B. Bolzano Gold Medal for Merit in the Field of Mathematical Sciences in 1994.
Golub was most proud of the 30 PhD students he advised and all of their accomplishments. He never pointed out a publication or award as what defined his career, but rather talked about people by praising the students and colleagues that made him a better person.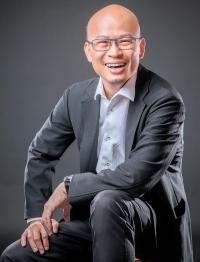 CS alumnus
Peng Ong
was recognized for his breadth of influence in the fields of systems engineering and software development and for his investment and leadership in the Southeast Asia tech industry.
Ong describes himself as a "geek-entrepreneur." He is a coder, founder, advisor, and most recently, a venture capitalist. After receiving his master's from Illinois, Ong worked in engineering and management roles at Illustra, Sybase, and Gensym before co-founding and serving as Chief Architect of Electric Classifieds, which launched Match.com. Match.com became the leading online dating service.
After Match.com, he founded Interwoven, the leading provider of content infrastructure and one of the originators of the concept of content management systems. Interwoven was the standard for worldwide companies, such as General Electric, General Motors, Federal Express, and Cisco Systems. Interwoven was successful because it did not force companies to change the structure of their information. The company went public on NASDAQ and grew to a $10 billion market cap before it was eventually acquired by Hewlett Packard.
After Interwoven, Ong founded Encentuate, the developer of identity and access management software. Encentuate was acquired by IBM in 2008. Today, the businesses Ong has created generate annual revenues of over $1 billion in total.
Ong is an enthusiastic venture capitalist. Most recently, he partnered at a leading venture capitalist firm in China, GSR Ventures. He served as the chair of Infocomm Investments and chairman of Jungle Ventures. He has sat on the boards of Singapore's National Research Foundation, Singapore's Media Development Authority, SingTel, and the University of Illinois Chancellor's Strategic Advisory Board.
As a native of Singapore, he is passionate about growing the Southeast Asia tech industry into a climate similar to Silicon Valley.
Ong is a managing partner at Monk's Hill Ventures, a tech venture fund focused on post-seed stage companies in Southeast Asia. He shares his valuable insights with young entrepreneurs through mentorship. He is known by his friends and colleagues as a very inspiring person who is full of wisdom, and encouragement, and always sees the best in people.