Torrellas and Fletcher Begin Investigating Many-Domain Processors as Cloud Computing Alters Architecture Environment
Professors of Computer Science Josep Torrellas and Christopher Fletcher have enjoyed a fruitful working relationship with Intel for multiple years.
They position their research at the intersection of computer architecture and security. This makes a company like Intel an impactful partner. From its origins with semiconductor devices to current innovations – within cloud computing, for example – Intel cemented its status as a state-of-the-art company.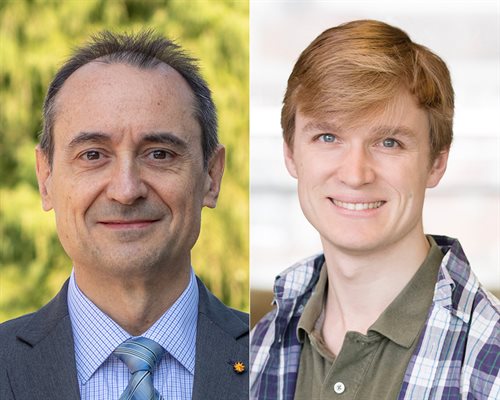 This shared passion for innovation now led to another collaboration. Fletcher and Torrellas formed a work group in August to begin working on a new proposal from Intel's University Research & Collaboration office in the area of Resilient Architectures and Robust Electronics.
Over the next three years, Torrellas and Fletcher will work with University of Texas at Austin professor Mohit Tiwari. The Illinois group will earn $145,000 per year to investigate a project titled "Many-domain Processors: Micro-architecture and OS-orchestration to secure 100s of Concurrent Security Domains in Cloud- and Web-workloads."
Fletcher and Torrellas explained that cloud computing is causing an evolution in the architecture environment. Rather than relying on resource-intensive virtual machines that each emulate an entire computer system, there is a shift toward the use of many lightweight virtualized runtime environments, called containers, that each host a single application or service.
But with this innovation comes security risks that the researchers will work to identify and help solve.
"This is very important, because projects like this are tapping into discussions and possibilities that should represent very compelling change over the next few years," Torrellas said. "Substantial progress on a project like this one is important now to prove we can influence greater change later."
"We are moving toward a redesign of the processor and the caches so that you have many lightweight security domains,'' Fletcher said.
The expertise of the group expands from computer architecture into security and domain-specific acceleration. They have experience designing secure systems.
These three researchers will work alongside a security group from Intel that includes Carlos Rozas, Frank McKeen and Fangfei Liu. The collaborators already have a working relationship together.
In fact, a previous grant featuring the same exact collaboration through Intel recently ended as this one began.
"It has been an enjoyable and productive experience to work together," Fletcher said. "This group at Intel has a wonderful, in-depth knowledge of what's important at the company. They discuss items with developers there about what's next. They know what's feasible and what's not feasible.
"Then the group is open with us so we can help them progress through whatever hurdles they are encountering."
As productive as it has been to work alongside outside collaborators both in academia and industry, Torrellas and Fletcher also point to a proven track record at Illinois CS to complete projects like this.
Here, they said, one can find fellow faculty experts and top students to ensure successful completion of many different projects.
"I wouldn't change this environment at Illinois CS for anything," Torrellas said. "We have excellent colleagues who are willing to collaborate", Fletcher said. Additionally, we can approach so many different challenges because of the many areas of expertise among peers.
"Of course, it also helps that we have wonderfully engaged and friendly students."