Smaragdis Receives CAREER Award to Study Scaling Source Separation to Big Audio Data
CS and ECE Assistant Professor Paris Smaragdis recently received a National Science Foundation CAREER award to pursue research in computation and sound, specifically in scaling source separation to big audio data. Smaragdis is an expert in working with machine learning techniques and signal processing as it applies to audio data. Smaragdis said, "One of the problems that I've been trying to solve for a lot of years is called source separation; if someone presents you with a mixture of multiple sounds, how you extract only the one sound that you want?"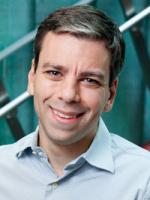 And this has been the focus of his research: developing algorithms and processes to extract a desired sound or group of sounds from a larger sound collection. With this CAREER Award Smaragdis will begin working to scale up that research to work with very large amounts of sound data. Not only will this help train and refine existing algorithms to perform such tasks better, but it will also pave the way for applying such processing on systems that deal with vast amounts of audio inputs. "For example if I were to scatter tens of thousands of microphones in a city so that I could monitor traffic, how would I be able to do this type of processing that many times in real time all the time?" said Smaragdis. "We don't have the algorithms for that yet."
As part of this process, Smaragdis will also need to develop ways to train computer systems. "A lot of those algorithms require a bit of training, where you give [the computer] examples, [such as] this is how Paris's voice sounds. Now that you know how it sounds, you can try to extract it from a mixture," explained Smaragdis. "What we're proposing now is a different family of algorithms that would be able to scale for big data and for larger volumes of sound."
Smaragdis came to technology research through a less conventional path: by way of music. As an undergraduate, he studied electronic music, and part of that work involved recording. He noticed that if a band is recording, the speaker's microphone will often pick up the drums—in fact, every microphone will pick up parts of all the other instruments and singers. Smaragdis became more and more involved in this aspect of the work. "The first thing you learn when you get into [electronics and music], is that you do a huge amount of technical work as opposed to actual art. And, eventually that part consumed all my time," Smaragdis said.
This year, in addition to his CAREER Award, Smaragdis was selected to serve as an IEEE Signal Processing Society Distinguished Lecturer for 2016-2017. The Distinguished Lecturer Program provides a means for chapters to have access to individuals who are well known educators and authors in the fields of signal processing, and who can lecture at Chapter meetings. While many IEEE Societies have similar programs, the SPS provides financial support for the Chapters to take advantage of the service. Lecturers are elected by the society's Award Board.
In 2006 Smaragdis was named one of the world's top 35 innovators under age 35 by MIT Technology Review. He was named an Adobe Distinguished Inventor in 2014. He is a Fellow of IEEE. His name appears regularly on the list of teachers ranked as excellent by their students. In 2014 he was recognized as an outstanding advisor by the Engineering Council of the College of Engineering. Earlier this year Smaragdis received the C. W. Gear Outstanding Junior Faculty Award from CS @ ILLINOIS.