ServiceNow's Chicago Opening Lifts Tech Sector, Helps Develop Growing Link Between City and Illinois Computer Science
Cloud-computing firm ServiceNow helped Chicago take a major step toward building its ecosystem of technology companies with its February decision to open a West Loop engineering center, a move that also helps the University and Illinois Computer Science build bridges to the city's growing tech sphere.
One of the key people behind ServiceNow's decision to open a center, which will eventually employ 150 engineers, has firsthand knowledge of the talent pipeline that begins in the Department Computer Science and was part of the attraction for the company.
Chirantan "CJ" Desai, ServiceNow's chief product officer, is a 1995 graduate of both Illinois Computer Science and the Gies College of Business, leaving campus with an MCS and an MBA.
"I wanted to go to a city where I could have students work on great projects, and also develop a pipeline of talent and create a powerhouse of software engineering in Chicago," Desai said.
That vision matches the university's own efforts to connect Chicago with tech talent.
"ServiceNow's decision to open an engineering center in Chicago brings an innovative technology leader to the city, and its desire to recruit from the talent base here represents an excellent opportunity for our students to find challenging, rewarding career opportunities without leaving the state," said Vikram S. Adve, interim head of the Department of Computer Science. "It also further expands the opportunities for University efforts like the City Scholars program to partner with leading technology companies in the Chicago area."
That program, part of the College of Engineering, launched earlier this year.
City Scholars lets students from Computer Science, Computer Engineering, Electrical Engineering, and Industrial Engineering live, work and take classes in the heart of Chicago for a semester. The 37 students chosen for the program's first semester are working 20 hours a week as paid interns while connecting with executives, experts, and civic leaders at some of city's top companies. They're also taking classes both locally and online.
ServiceNow is based in Santa Clara, Calif., and has about 6,200 employees worldwide. The publicly traded company already has three engineering centers: nearby in Silicon Valley, in San Diego, and in Seattle.

Desai says that, while ServiceNow has clients with offices in Chicago, that wasn't the main reason to open the company's fourth engineering center in the city.
Nor was it the kind of financial incentives package that commonly helps lure a company to a given location, according to Lori Bush, the vice president of Business Development at World Business Chicago, the city's economic development agency. ServiceNow is not receiving any financial incentives from the city.
The primary draw was talent.
"In this case they were looking for computer science talent," Bush said. "We worked with them to convince them that we have the talent they need."
Desai added, "For me the attractive part was, given a choice, if the students after they graduate can live in the Midwest, especially Chicago, many would prefer that.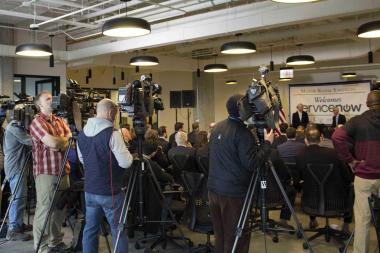 "
As Chicago Mayor Rahm Emanuel said during a Feb. 23 news conference announcing ServiceNow's decision, "Chicago has talent and it keeps coming here."
Desai highlights the students and faculty at his alma mater, but he points out that ServiceNow will benefit from and become of a part of a regional tech network that also includes other universities – Northwestern University, the University of Chicago, and Illinois Institute of Technology among them
He envisions collaborations with ServiceNow's new academic partners that include joint research projects.
"The most important thing is how can the University of Illinois community work well with ServiceNow in Chicago—students and faculty—to develop a great set of technologies, and a great set of projects for areas such as machine learning and AI," Desai said.