Marc Snir Heads Toward Retirement, Leaving Legacy as Former Illinois CS Head and Leader in HPC
Marc Snir never intended to be the head of the Department of Computer Science at the University of Illinois.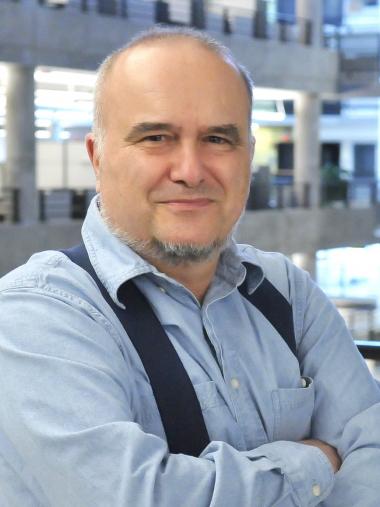 But while interviewing for a faculty position, someone suggested his experience as a senior manager at the IBM T. J. Watson Research Center might make him a good candidate. And so in 2001 he was hired, bringing with him a serious background in high-performance computing, extensive management skills, and the trademark suspenders he wears almost everywhere (his team at IBM sent him off with an orange pair, adding to what was already a growing collection).
It was an unconventional beginning to what has been an unconventional tenure at Illinois CS.
"I've been going back and forth probably more than is customary," the understated Snir said, explaining a career path that began in academia, moved on to the private sector, then led him back to higher education again when he first came to Illinois, only to detour to Argonne National Laboratory before finally settling in again at Illinois CS.
All of that will officially end this summer when Snir retires.
Snir, who is the Michael Faiman Professor of Computer Science, leaves behind an indelible print on the department, computing's place in the university, and in his field. He's considered a leader in parallel algorithms, programming models, and architectures.
Illinois CS opened its new home in the Thomas M. Siebel Center for Computer Science under Snir, reached out to form partnerships across campus in ways that are now familiar, and, before he left the position in 2007, grew rapidly. Snir hired a number of new faculty members to meet growing demand for the department's courses.
"Before we moved (into Siebel), people were in many different places. We got all the department in one place," he said. "I'm certainly proud of the growth, and basically the people that I hired are now the people that are starting to lead the department."
Snir, a native of France, earned his PhD in Mathematics from Hebrew University in Jerusalem in 1979. He began his career in academia, serving as an assistant professor at New York University – where he worked on the NYU Ultracomputer project, and as a senior lecturer at Hebrew University -- before moving to the T. J. Watson Research Center at IBM in 1986.
But Snir says he longed for the kind of intellectual freedom he found on a university campus. When word spread that he was on the market, he said, someone pointed him to Illinois, which was looking for someone whose expertise included computer architecture.
At IBM, Snir led the Scalable Parallel Systems research group, which was responsible for major contributions to the IBM SP scalable parallel system and to the influential IBM Blue Gene system. Both systems were for a time ranked No. 1 on the TOP500 supercomputing list. And he had made significant contributions to NYU Ultracomputer, an early parallel computer designed to contain thousands of processors and introduced concepts that are now standards in shared memory parallelism.
But when Snir interviewed, beyond his technical prowess, some of those already in the department were impressed by his ability to regularly manage up to 30 people at IBM.
"You might even say that's better training (for a department head) than the standard academic route, where the only thing you're in charge of is your graduate students," said Michael T. Heath, the Fulton Watson Copp Chair Emeritus and among those who interviewed Snir. Heath would go on to serve as interim department head himself when Snir left the position.
Snir says his wife wasn't sure about uprooting from Westchester, N.Y., for an area where they had no connections. But what the couple found, in the department and in the community, convinced to make the move.
"We met people from the department, we met members of the Jewish community -- so it was clear that we can have a reasonable social life here," he said. "In Westchester, it's hard to know your neighbors. In Champaign-Urbana, it's easier."
Snir added, "My predecessor, Dan Reed, had negotiated with the college a fairly aggressive growth pl
an. We were poised to enter into the new building. So it was clear it was going to be a period of growth and renewal."
That growth included the new faculty hired over Snir's tenure, 25 in all and, at what Heath calls a demanding pace.
"Everybody was just exhausted," Heath said. "You couldn't get anybody to even go to dinner with (candidates) by the end of the semester."
Snir also pushed to connect the department with the rest of campus, particularly those south of Green Street. He wanted to see the basics of computer science taught across the university and applied to a wide variety of disciplines, while also recruiting and welcoming faculty whose work crossed disciplinary boundaries – links that have only become more important as CS has become an integral element of medicine, construction, entertainment, and too many other aspects of modern life to list.
"When I came, I think there was still a debate, if we wanted to be 'pure,'" Snir said. "Whether we wanted a narrower department that is focused only on its own students or should we embrace disciplines that have heavy use of computers in their own area?"
At Illinois, Snir also had a key role on the development of Blue Waters at the National Center for Supercomputing Applications. He was one of the five co-principal investigators who crafted the proposal that created Blue Waters, focusing on the powerful supercomputer's software architecture.
"Marc played a key role in developing the winning proposal when Illinois competed against other NSF Supercomputing centers and national laboratories, and then later in revamping the system design when expected technologies were not delivered." said Bill Kramer, the Blue Waters Project director and principal investigator. "Marc assured Blue Waters was a flexible and balanced system, a key reason the system is now supporting as much data analysis research as traditional modeling and simulation."
Beyond the current generation of machines, Snir has also influenced the drive toward exascale computing. His move to Argonne as director of the Mathematics and Computer Science Division from 2011 to 2016 was made with that, in large part, in mind.
"(The Department of Energy) is driving the exascale initiatives. Basically, much of what I did is to prepare Argonne to be a major player, preparing people to lead bigger projects and being ready when exascale computing came to have a very clear message of what we should drive there," Snir said. "And Argonne is heavily involved now."
Snir's work has been widely lauded.
He is an AAAS Fellow, ACM Fellow and IEEE Fellow. He won the IEEE TCSC Award for Excellence in Scalable Computing and the IEEE Computer Society Seymour Cray Computer Engineering Award. And he was recently awarded a Doctor Honoris Causa Degree from ENS, Lyon, France (the only other computer scientist to receive this honorary degree is ACM A.M. Turing Award winner Leslie Valiant, who was Snir's post-doctoral advisor).
The honorary doctorate is generally a sign that a career is at an end, Snit noted, but he will continue to work.
He has five PhD students, meaning he'll be able to add to the dozen he's graduated over the years (10 of them at Illinois). He's also working on a book, on parallel algorithms.
And, no matter what he's doing, Snir says his suspenders are going nowhere.
"I've been wearing suspenders for some decades. It's comfortable for people that have a belly," he said. "It becomes your schtick."