HackIllinois: Celebrating Innovation and Fun
Thirty-six hours, 1,525 young people, 59 corporate sponsors, and dozens of clever technology ideas—welcome to HackIllinois 2016, where the nation's top students convene on the University of Illinois campus to create mobile apps, websites, or hardware in a fast-paced, caffeine-fueled, fun weekend. Held this year on February 19-21 at Siebel Center and the ECE Building, HackIllinois is among the largest and best run student hack competitions in the country.
"We were really surprised by the number of hackers that showed up for HackIllinois this year," said CS junior Nick Kortendick, who was co-chair of last year's event and helped execute this year's hack. "We've always focused on the overall hacker experience—whether that's having enough food, a great theme or working wifi—and not so much on growth. So it was great to see those two come together."
Purdue University students Ashish Vora and Mitchell Lee were attending their first hackathon and were thrilled by the experience. "I'd like to thank all the students who put this together," said Vora. "I was blown away by it all."
Added Lee: "We're relatively new to coding, but we definitely learned a lot. Events like these are important because they add context to what we learn in the classroom. It's been a life-changing experience. I was blown away, too."
According to HackIllinois co-chair and CS senior Rohan Kapoor, the 2016 event doubled the number of participants from its inaugural 2014 hackathon. "We are thrilled with how it went," he said moments after the closing ceremony and awards were presented for best hardware and software projects.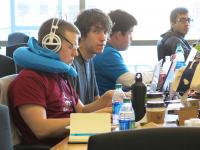 One of those projects involved integrating the popular MarioKart video game with a real car's mechanical and software systems. The Catch Me if You Can team, which won first place in the hardware category, included Illinois physics undergraduate J. P. Smith and two students from Illinois State University.
"With the car parked, we used my steering wheel, accelerator, and brakes to play MarioKart," said Smith, noting the campus police stopped by to check what they were doing early Sunday morning. "The police were really nice about it, but they were like, 'Really, what are you doing in the parking garage at 2 a.m. with all the lights on?'"
Run entirely by students, HackIllinois is popular among corporate recruiters who come to help the participants with their projects while looking for talented future employees.
"We can see what people can make in a whole weekend, as opposed to learning about them in an hour interview," said Matt Kula, a software engineer with Facebook. "We can see how creative they are, how quickly they learn, and what they can produce in a limited amount of time. We can also be mentors and help the students solve problems."
CS alumnus Matthew Dierker (BS CS '15), who spearheaded the launch the first HackIllinois in 2014, attended this year as a recruiter for his employer Google. "I'm finding a lot of potential recruits, and it's fun to see what everybody builds," said Dierker, who was pleased to learn that over the event's three years corporate sponsors have provided nearly $500,000 in funding.
Kapoor and fellow CS undergraduate Sri Vasamsetti led a team of 150 volunteers on planning and executing the event, which also included fun diversions like drone racing, a Nerf gun battle, and a tour of the Blue Waters supercomputer facility.
The HackIllinois leaders expressed special thanks to the following people who served as judges for the event: Pek Pongpaet, founder of Impekable Studio; Tasos Karahalios from IDEO; Chrissy Ziccarelli, deputy director for instruction at Girls Who Code; alumnus Jed Taylor (MS CS '03, MBA '05), director of operations at the U of I Technology Entrepreneurship Center; and alumnus Alex Burck (BS CS '14), software developer at Intelligent Medical Objects who helped run the first HackIllinois; and Jay Freeman, founder of Cydia.