2016 Young Alumni Achievement Award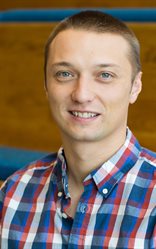 Marcin Kleczynski has been creating anti-malware software since he inadvertently infected his family's computer with a virus in 2004 when he was a young teen. Four years later, he founded his company, Malwarebytes, during his freshman year at Illinois.
Today, Kleczynski leads the strategic expansion of the business, whose products protect consumers and businesses against dangerous threats such as malware, ransomware, and exploits that escape detection by traditional antivirus solutions. He also oversees the long-term vision for the R&D teams. Malwarebytes employs more than 350 people in 15 countries.
Kleczynski has been recognized for his work in cyber security, receiving the Ernst and Young Entrepreneur of the Year award in 2014 and being named to the 2015 Forbes 30 Under 30 List in the Enterprise Technology category. In 2016, the company received two Stevie Awards for being the most innovative tech company and fastest growing tech company; Kleczynski received a Silver Stevie Award for Executive of the Year in the computer software industry.