CS Education Researcher Morgan Fong Receives Coveted NSF Graduate Research Fellowship
A member of CS teaching associate professor Geoffrey Herman's group, Morgan Fong is exploring spatial ability as an indicator for success in STEM fields.
News | August 7, 2020
Impact Report
The Illinois Computer Science Impact Report highlights the innovations of our students, faculty, and alumni, and it recognizes their contributions to the field of computer science.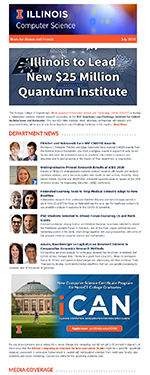 E-News
The Illinois Computer Science E-News is distributed every month throughout the year.