Illinois CS Announces Launch of the Illinois Computing Accelerator for Non-Specialists (iCAN)
The Department of Computer Science at the University of Illinois at Urbana-Champaign is excited to announce the launch of a new one-year certificate program focused on broadening participation in computing.
News | June 29, 2020
Impact Report
The Illinois Computer Science Impact Report highlights the innovations of our students, faculty, and alumni, and it recognizes their contributions to the field of computer science.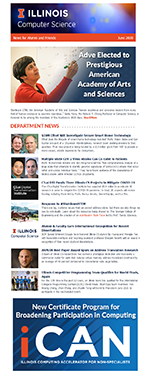 E-News
The Illinois Computer Science E-News is distributed every month throughout the year.