Welcome Rob A. Rutenbar, 10th Head of Department
Rob A. Rutenbar has joined the department of computer science as the 10th department head. Rutenbar was most recently the Stephen J. Jatras Professor of Electrical and Computer Engineering at Carnegie Mellon University in Pittsburgh, PA. He has worked on algorithms and software tools for custom circuit synthesis and optimization for over 20 years, and on silicon architectures for speech recognition for the last half dozen years.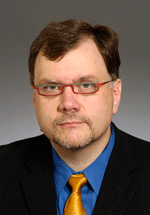 "Professor Rutenbar was chosen to lead this highly ranked department after an extensive search," stated Ilesanmi Adesida, dean of the College of Engineering. "He recognizes our long history of leadership in computing at all levels, and the excellence that is Engineering at Illinois. He also brings a significant amount of experience from both the private sector and higher education, and I believe that will positively impact the entire department."
"I am thrilled and honored to have been chosen as the next department head of computer science at Illinois," said Rutenbar, who will also be a Bliss professor at Illinois. "The department has made an unmistakable impact on computing as we know it, with a clear commitment to excellence among its faculty, staff, students, and alumni. I look forward to working with everyone at Illinois as we continue to lead the computing advances of tomorrow."
Rutenbar follows Professor Michael Heath, the Fulton Watson Copp Chair in Computer Science, who served as interim head of the department since August of 2007.
"The college and computer science department owe Michael Heath a debt of gratitude for his leadership over the past two years," Adesida noted. "His service in challenging times has placed the department in a superior position to pursue continued excellence in the classroom, in the research lab, and in the field."
Rutenbar's current research activities include work on statistical algorithms to understand the behavior of nanoscale designs, and strategies for hardware acceleration of machine learning and data mining tasks. His work on software tools for custom circuits is particularly significant.
"The first thing that happened after it became easy to put a few million logic elements on a chip was that those chips wanted to talk to the outside world," Rutenbar explained. "The essential analog circuits at those interfaces, from wired networks to wireless links, were poorly served by the existing ecosystem of software CAD tools. At CMU, Rutenbar's group pioneered numerical algorithms to translate specifications into circuits, optimization algorithms to improve the performance and manufacturability of these circuits, and combinatorial algorithms to translate these circuits into final integrated circuit mask geometry.
Rutenbar's recent work has ranged widely from statistical algorithms to speech recognition. He was the first to show how the mathematics of computational finance and actuarial risk could be adapted to dramatically accelerate the analysis of silicon yield for leading-edge nanoscale technologies. In 2006, his group demonstrated the first state-of-the-art speech recognition engine fully implemented on a single FPGA chip.
Rutenbar received his PhD from the University of Michigan in 1984, and then joined the faculty at Carnegie Mellon University (CMU). In 1998, he co-founded Neolinear Inc. to commercialize the first practical synthesis tools for analog designs. He served as Neolinear's Chief Scientist until its acquisition by Cadence in 2004. In 2006, he cofounded the Silicon Vox Corporation to commercialize ultra-high-performance architectures for speech recognition. He is the founding director of the U.S. Focus Research Center for Circuit and System Solutions—called "C2S2." C2S2 is a CMU-led consortium of 19 U.S. universities and over 50 faculty, funded by the U.S. semiconductor industry and U.S. government to address future circuit and system challenges.
Rutenbar has won many awards over his career, including the 2001 Semiconductor Research Corporation Aristotle Award for excellence in education, and most recently, the 2007 IEEE Circuits & Systems Industrial Pioneer Award. His work has been featured in publications ranging from EE Times to The Economist magazine. He is a Fellow of the ACM and IEEE.