Weekend Features Recognition and Information for High School Students
On April 9, CS @ ILLINOIS played host to two events: National Center for Women in Information Technology's Aspirations in Computing awards presentation and CS @ ILLINOIS Sail. Both of these events provide ways for the department to reach out to younger students in the area to promote interest in technology and computer science.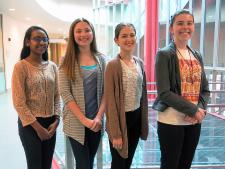 This was the second year that CS @ ILLINOIS held awards ceremonies for the central Illinois region of the NCWIT Aspirations in Computing awards. This year five high school girls from central Illinois were selected to receive this honor, based on their application material and essay.
The awards ceremony held that morning was a time to recognize these students for their efforts. Two prior recipients of NCWIT Aspirations awards, Daniela Markazi and Monika Janas, who now attend the University of Illinois gave some testimonials of the impact of technology and computing in their lives, and what they feel they have gained from their interactions with NCWIT through the Aspirations program.
CS senior Bri Chapman, who received an NCWIT Aspirations award in 2011 was the featured speaker for the ceremony. She discussed the use of innovative computing technology that has develop within the animation industry. Taking several recent computer animated films, Chapman demonstrated how computers have had an impact on the industry and how industry technicians were able to solve problems created by the movie's subject matter. In particular, Chapman focused on how the problems and solutions in animating hair, which was a key part of such films as Tangled and Brave.
Recipients received an award for themselves, as well as one for their home school to display. They also other gifts from NCWIT and CS @ ILLINOIS.
Following the NCWIT Aspirations ceremony, the CS @ ILLINOIS Sail event took place for much of the day. This student-driven event was developed as a way to reach out to high school students (in particular students who have been admitted to the University of Illinois) and provide some instruction on a variety of computer skills, including such topics as an introduction to Linux, a Python and Raspberry Pi workshop, and data science for beginners.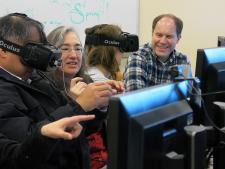 Well over 200 high school students participated. This was the second year for the event (although last year it went under the name Splash).
One addition to the event this year was a series of events designed for parents. While their children were off in the Sail courses, parents had a presentation from CS @ ILLINOIS Associate Department Head Lenny Pitt and Undergraduate Advisor Heather Zike. "Parents seemed to really enjoy the demos," Zike said. "In the VR lab they were laughing it up and loud like a bunch of high schoolers. They were probably louder than the kids. I had a Dad ask if he could come back to school because he loved everything he was hearing so much."
NCWIT Aspirations and CS @ ILLINOIS Sail have proven over the past couple of years to be excellent ways to introduce eager young people to the excitement found in the department.