Utpal Banerjee, Illinois graduate whose work transformed parallel computing, dies at 74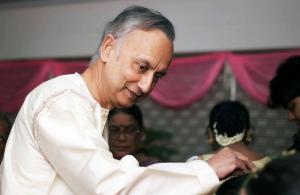 Utpal Banerjee, a CS @ ILLINOIS graduate whose work had a profound impact on parallel computing, died Aug. 1 in California, according to his family. He was 74.
While working as a graduate student for Professor David Kuck at the University of Illinois in the mid-1970s, Banerjee developed a method to automatically analyze a loop to see whether it could be run in parallel. Later known as Banerjee's Test, his fast, effective data-dependence test has been widely used since for developing compilers.
"One of the things in computer science is 'make things faster,' and Banerjee's Test really helped make dependence analysis fast," said David Padua, a Donald Biggar Willett Professor of Engineering at CS @ ILLINOIS. He met Banerjee while the two were in grad school and became a lifelong friend.
Banerjee, who earned a master's degree from CS @ ILLINOIS in 1976 and a doctorate in 1979, worked at one of the early powerhouse computer companies, Control Data Corporation, before going on to spend almost two decades at Intel.
There, he applied an orderly, mathematical approach to loop transformation, formalizing the transformation of code.
Previously, "the overall method of transforming programs into parallel machines was kind of a bag of tricks – you try this, you try that. Then Banerjee looked at the program and represented it mathematically," Padua said. "He created a mathematical framework, an algebra, to manipulate programs."
"He had an immense influence, and I don't think they recognize it as much as they should," Padua said.
Banerjee's daughter, Sanchita Saxena, said she and others in her family are only now beginning to fully appreciate her father's professional impact because he didn't talk a great deal about his work.
"He was very passionate about his work, but he wasn't the type that was a workaholic. I never felt like his work took him away. He always gave his family and me a lot of attention," said Saxena, who is executive director of the Institute for South Asia Studies at the University of California, Berkeley.
Banerjee also had a deep appreciation for his time at Illinois, she said.
"My childhood was near the campus, in graduate housing. I remember those being some of the best times," she said. "He was so fond of his colleagues at the University of Illinois, and then he would go back in the summers fairly frequently."
Beyond his work and his family, Padua said, Banerjee was a huge fan of opera, and a just lot of fun to talk to about a wide range of subjects – politics, science, art.
"He was intelligent and knowledgeable, but most important, he was a wise person, the way he looked at life. It was a very joyful experience to sit down and have a conversation with him," Padua said.
Banerjee was recognized as a fellow of ACM and IEEE, and also was an adjunct professor of Computer Science at the University of California, Irvine before he retired. He also authored a number of books on computing while at Intel. CS @ ILLINOIS recognized Banerjee in 2016 with the Distinguished Achievement Award.
Texas A&M University Computer Science Professor Lawrence Rauchwerger, who earned his PhD from CS @ ILLINOIS in 1995, is planning a special tribute to Banerjee during the 30th International Workshop on Languages and Compilers for Parallel Computing at Texas A&M. The tribute will be at 5 p.m. on the opening day of the Oct. 11-13 workshop.
A small, private service was held for Banerjee in August in the Bay Area, his daughter said.