Sundaram Studies Collective Behavior in Social Networks
Associate Professor Hari Sundaram is a joint hire between the Departments of Computer Science and Advertising. This novel position is part of a multiyear Strategic Excellence Hiring Program—a campuswide faculty hiring initiative designed to promote the recruitment of leading faculty who will foster multidisciplinary research teams to address critical societal problems.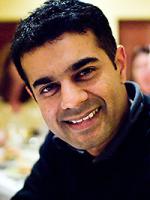 Computational Advertising is the first partnership between these two nationally prominent and prestigious campus units. This new faculty position will allow the two departments to respond to important academic questions and opportunities associated with big data and the rise of social media. It will also allow the units to begin to build new curricula, research, and teaching at the intellectually and commercially vital intersection of information, technology, and society.
Sundaram earned his doctorate from the Department of Electrical Engineering at Columbia University.
"I am motivated by a challenge: how to persuade millions of individuals to adopt behaviors that would be beneficial to them?" explained Sundaram. "Examples of behaviors include leading a healthy lifestyle, reducing our energy consumption, and greater civic engagement. Widespread adoption of these behaviors would have significant societal benefits: reduced healthcare costs, a more sustainable planet and a vibrant civic society. Despite knowledge of benefits, many do not adopt these behaviors in part due to time and resource constraints."
Two developments in computing—social media usage and the increasing use of smartphones—have not only lowered the costs of keeping in touch with friends, family and the community at large, but also have made it easy to access information and take decisions on the go, away from home or at work where we've historically accessed information.
"The intersection of computer science (analysis of networks) and advertising (creating persuasive messages)—in other words, computational advertising—provides us with a new framework to analyze and to address this challenge [of adopting beneficial behaviors]," he said. "My research group is working on three interrelated themes: the analysis of structure and of dynamics in social networks, sensing physical activity via smartphones and wearable sensors and developing computational advertising frameworks for persuasion."
Sundaram's research has received several awards, including best paper awards, from the IEEE and ACM societies and has been supported by federal sources (NSF, NEA, NEH) and industry (Avaya, IBM, NEC, Microsoft and Ricoh).