Students Who Followed Different Paths to Illinois CS Named Knights of St. Patrick
Two recent Illinois Computer Science graduates from the Chicago suburbs are among this year's Knights of St. Patrick award winners, but Shannon Strum and Daniel Johnson took very different paths to becoming CS majors.
Strum and Johnson were inducted as Knights of St. Patrick along with nine other Engineering students. The award recognizes leadership, character, and exceptional contributions to the College of Engineering and its students.
Strum knew in high school in Villa Park that CS might be for her. Her father was a programmer, so she took a programming course in school. But she was the only girl in a class of 30 and felt intimidated.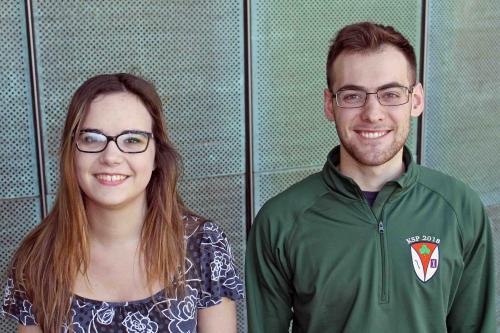 Similarly when she came to Illinois Computer Science, she wasn't sure she fit in and quickly considered changing majors.
But she attended a Women in Computer Science mentoring event, and it changed her outlook.
"(I) fell in love with the organization and with computer science. The sense of community and support the organization provides is outstanding -- WCS encouraged me to believe in myself and never give up," Strum said.
Subsequently, she became a leader of the WCS chapter, serving as its president this school year.
Strum has also stepped in elsewhere, serving as the lead engineering learning assistant for Computer Science, teaching a section of Engineering 100 to CS freshmen, and volunteering for the Women In Engineering fall orientation as a mentor in 2015, '16, and '17.
"Through this participation, Shannon has influenced the academic start and success of three freshmen classes of women in Computer Science," Susan M. Larson, assistant dean for the College of Engineering, wrote in a letter nominating Strum.
After her May graduation, Strum will go to work as a cybersecurity engineer for Capital One while pursuing her Master's in Computer Science at Georgia Tech University. She says she's grateful for the opportunities she found at Illinois Computer Science to become a leader.
"When I first entered college, I never really considered myself a potential candidate for this award, as I was really quiet," she said. "The leadership opportunities UIUC offered me helped me grow a lot throughout college and gain more confidence in my abilities."
While Strum came to campus focused on CS, Johnson enrolled with something else in mind.
"I came to the University of Illinois studying engineering physics. I really liked the computational side of physics, so I started looking more into scientific computing and that is how I got involved with computer science," said Johnson, who grew up in Palatine.
Johnson threw himself into work outside the classroom, volunteering as peer mentor in the Department of Physics.
He is also treasurer of Volunteer Illini Projects, a member of the Engineering Student Alumni Ambassadors, and serves on the Provost's Undergraduate Student Advisory Board and the Engineering Student Admissions Representative group. He also has served as a student representative at Engineering's Homecoming activities for several years.
"His love for the College is evident, and that enthusiasm has manifested into incredible dedication to the College's advancement and outreach efforts," Emily Harrison, who is coordinator of Engineering advancement activities, wrote in a letter nominating Johnson.
Johnson has also taken on an active role in research, co-authoring several papers and being first author on two, one in the journal Classical and Quantum Gravity and one in the journal Fusion Engineering and Design.
While taking on both volunteer and research roles, Johnson is also part of the James Scholar honors program.
After his May graduation, Johnson will begin a PhD program at the Institute for Computational and Mathematical Engineering at Stanford University.