Student Startup Lumenous Brings Projection Mapping Out of the Arena
"Projection mapping everywhere."
That's the slogan of Lumenous, a startup founded by CS PhD students Brett Jones, Kevin Karsch, and Raj Sodhi.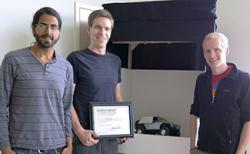 Projection mapping is the process of turning everyday objects into immersive and interactive displays. Currently, this is an expensive process requiring several experts working for weeks or months on a particular project, depending on complexity. These displays are seen in such venues as auto shows, concerts, or other large settings like this.
Although projection mapping has been around since the late 1960s, the process for creating these experiences has not progressed all that much. Sodhi explained that, compared to photo manipulation, projection mapping is "a lot more expensive, and it takes a lot more time to do it. It's very, very difficult. Existing tools just aren't primed for doing those things. That's where we come in with our experience with computer vision and graphics. With our PhDs, we're coming in to make this much easier for people to do."
Lumenous has a plan on how they can help put this process within the capability of smaller companies or organizations. "We're developing hardware and software to make the whole process much easier for the designer and much more efficient," said Karsch. "And so, instead of taking ten experienced people to create something like that, one or two designers to could take a day to make something and set it up in just a few hours."
"What we are trying to do is to revolutionize project mapping," said Jones. "Instead of only being in high budget public events, [you'll see] it in a more and more [local] retail experiences."
They are currently working on the beta version of their product, which will include both hardware and software.
In their graduate work Jones, Karsch, and Sodhi have been advised by David Forsyth, an expert in computer vision. Jones and Sodhi are co-advised by Brian Bailey, whose expertise is in human-computer interaction. Over the course of their graduate careers they had helped each other out in a variety of projects. Their prize-winning ingenuity and friendship promise a strong future for their company.
Award-Winning Ingenuity
The strength of their potential and ingenuity is illustrated by Lumenous being one of the winners of the 2014 Cozad New Venture Competition at the University of Illinois. In its 14th year, the annual Cozad Competition encourages students to develop new sustainable businesses. The competition is open to all students. This year 18 student teams competed in the final round for nearly $200,000 in funding and in-kind prizes. Lumenous won in the non-university funded research category. They received a $20,000 cash prize, legal services from Polsinelli, a Chicago law firm, and web design assistance from TINITT, a design firm.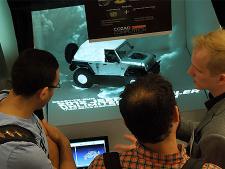 And this was not the first award these three have received for their ingenuity. In 2012 Karsch won the Lemelson-MIT Illinois Student Prize. In 2013, Jones and Sodhi each received an Illinois Innovation Prize for separate projects they were working on.
Entrepreneurship Resources
The three may not have had the courage to set out on their own were it not for the entrepreneurial encouragement they have received at Illinois. In addition to the competitions they participated, Karsch, Jones, and Sodhi have participated in various programs at the Technology Entrepreneur Center (TEC), which oversees the Cozad Competition. They have also taken part in NSF I-Corps through the Research Park. According to its website, I-Corps is a "public-private partnership program that teaches university entrepreneurs with a targeted curriculum to identify valuable product opportunities that can emerge from academic research, and offers entrepreneurship training to participants." They also participated in the Research Park's I-Start Entrepreneur Assistance Program.
"Raj and I have been here 10 years, and in that time, the amount of resources that have gone into encouraging entrepreneurship in Champaign [is impressive]. It's crazy to see that transformation just in the time we've been here. Now, it's so vibrant," Jones said. "There are just a lot of incentives to make the leap to a startup."