Sinha and Xie Chosen as Willett Scholars
Saurabh Sinha an Tao Xie were among ten faculty in the College of Engineering selected as Donald Biggar Willett Scholars for 2015. This recognition is targeted for faculty members who, at a relatively early stage in their careers, are excelling in their contributions to the University of Illinois.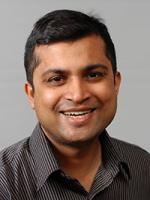 Associate Professor Saurabh Sinha is concerned with computational approaches to problems in molecular biology, especially gene regulation in metazoan genomes. An affiliate member of the Institute for Genomic Biology, his work looks to understand how sequences involved in gene regulation have evolved, and how such evolutionary dynamics may inform the discovery of novel regulatory sequences. Sinha is a principal investigator at the Center of Excellence for Big Data Computing, an Illinois-Mayo Clinic joint project focusing on the rapidly growing body of genomic and transcriptomic data produced by genome-wide, high-throughput experimental technologies. An affiliate of the Department of Entomology and the Biophysics program, Sinha has also been recognized with the Dean's Award for Excellence in Research from the College of Engineering.
Associate Professor Tao Xie joined the Illinois faculty in 2013. Before then, he was an associate professor in the Department of Computer Science at North Carolina State University. His research interests are in software engineering, with a focus on software testing, program analysis, and software analytics. He leads the Automated Software Engineering Research Group and is a member of the Programming Languages Formal Methods and Software Engineering (PL-FM-SE) area at Illinois.
Other researchers receiving this recognition this year are Daniel Bodony (Aerospace Engineering), Yann Chemla (Physics), Deming Chen (Electrical and Computer Engineering), Sascha Hilgenfeldt (Mechanical Science and Engineering), Harrison Kim (Industrial and Enterprise Systems Engineering), Xiuling Li (Electrical and Computer Engineering), Yanfeng Ouyang (Civil and Environmental Engineering), and Dallas Trinkle (Materials Science and Engineering).
The current Donald Biggar Willett Scholars in the College of Engineering at Illinois are the following:
Tarek Abdelzaher, CS
Joanna Austin, AE
Daniel Bodony, AE
Ximing Cai, CEE
Ioannis Chasiotis, AE
Yann Chemla, Physics
Deming Chen, ECE
Jianjun Cheng, MatSE
Brian DeMarco, Physics
Sascha Hilgenfeldt, MechSE
Elizabeth Hsaio-Wecksler, MechSE
Harrison Kim, ISE
Xiuling Li, ECE
Olgica Milenkovic, ECE
Angelia Nedich, ISE
Yanfeng Ouyang, CEE
Matthias Grosse-Perdekamp, Physics
Moonsub Shim, MatSE
Saurabh Sinha, CS
Dallas Trinkle, MatSE
Tao Xie, CS
Chengxiang Zhai, CS
The Willett Research Initiatives in Engineering funds term professorships, undergraduate and graduate student research, and related research activity. It honors the memory of Donald Biggar Willett (1897-1981) who attended the University of Illinois from 1916-1921. Mr. Willett left the University before graduation, just a few credits short of completing his coursework in civil engineering. He started his career as a partner in the family business, Suburban Coal and Supply Company, and later, worked as a self-employed bookkeeper and tax preparer. In 1994, his widow, Elizabeth Marie Willett, willed her entire estate to the College of Engineering, which established the Willett Research Initiatives Fund.