Shachi Solanki Honored as Part of 2019 Knights of St. Patrick; C.J. Coleman Recognized for Service to Students
Shachi Solanki's freshman year at Illinois Computer Science was not all that she hoped.
The school work was fine, she said, but, "I didn't feel like I belonged -- I couldn't find really a home in CS."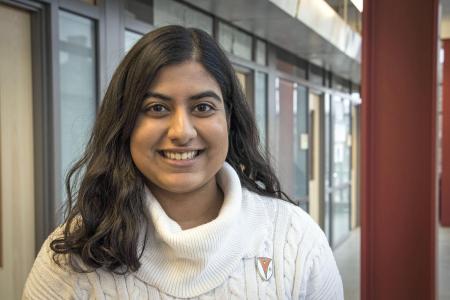 She found that home the next year, though, when she began taking up student-leadership roles in the department, as a member of Girls Who Code and as a course assistant for CS 126, Software Design Studio.
Solanki has now been recognized for taking on those roles and many more at the university, becoming part of the 2019 class of the Knights of St. Patrick. She was the only Computer Science student among the nine College of Engineering students chosen to receive the award this year. The Knights award recognizes leadership, excellence in character, and exceptional contributions to the college and its students.
"I'm honored," she said. "But at the same time, I know there are so many other people in the CS community who deserve an equal amount of recognition -- the HackIllinois directors, SAIL. Basically any organization we have in CS."
The Knights also recognized Illinois CS Associate Director for External Relations Cynthia J. Coleman with the Kay Kappes Golden Shamrock Award, which is given to a staff member who supports the students of the College of Engineering. Coleman
's work includes, among other things, supporting the department's student groups and directing corporate recruiting events.
"Working with our students has become the highlight of my 10-year career in Computer Science," Coleman said. "They inspire me and it's an honor to mentor them."
After finding her niche through Girls Who Code and working as part of the CS 126 staff – a position that alone requires about 10 hours a week -- Solanki added a number of other leadership and service roles: becoming the student lead for Girls Who Code, a member of the Illinois Computer Science Outreach Committee, a member of the Alpha Omega Epsilon Engineering sorority, serving as a Women in Engineering Ambassador, and working as a curriculum developer for MakerGirl.
MakerGirl was founded in 2014 by four Illinois students to encourage girls to pursue STEM careers. The group includes students from across campus and gave Solanki the chance to work with and get to know people from outside Illinois Computer Science.
"When you work with people that are all entirely like you, there's a lot that can be missed," she said.
Solanki might have missed out on computer science altogether if not for the subtle influence of two mentors: her father and a teacher at her high school in Hoffman Estates, a Chicago suburb.
As she registered for electives before her freshman year, Solanki's father gently pressured her to take an introductory programming course.
"Usually my dad isn't the type to force me into anything. But he did know that I was not tech savvy at all," she said. "I really didn't want to take it, but I didn't want to disappoint my dad."
So she signed up, in spite of her own disinterest in tech, the teacher's reputation for being tough, and her own expectation that the class would be miserable.
"And I discovered that it was the exact opposite. I realized I liked it because programming was not what I thought it was," she said. "I think I thought computers were just some sort of magic box. I didn't have any idea as to how stuff worked. And then when I wrote code for the first time, I was like, 'This is actually kind of cool. It's like a puzzle, putting things together.'"
So she took more, with the encouragement of that teacher, Richard Cortez.
"He's the one who really pushed me, even when I was still considering not going into computer science. He was like, 'You're good at this. Why don't you do this for your career?'" Solanki said.
Now Solanki is preparing to graduate in December, then likely pursue a career in software engineering and, eventually, she hopes, a management role.
"It would really help me to have that background in software engineering so that when I'm speaking to the engineers I'm somebody who has the perspective of actually doing what they have to do," she said.