Rutenbar Interviews Microsoft CEO Steve Ballmer in Chicago
Early on March 6, 2013, CS Department Head Rob Rutenbar traveled to 1871, an incubation center for digital startups in Chicago's Merchandise Mart, to take part in an event featuring Microsoft's CEO Steve Ballmer. The event brought together Chicago Mayor Rahm Emmanuel and 250 entrepreneurs and venture capitalists to hear from Ballmer.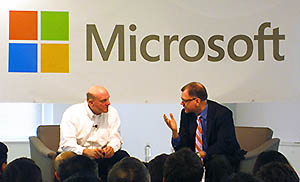 Rutenbar engaged Ballmer in a brief question and answer session during the visit. They covered such topics as difficulties Microsoft overcame during its early startup days, how Chicago could help foster startups, and how the growing need for mobility will affect Microsoft and its products in the coming years.
Ballmer said that Chicago has many attributes needed for a healthy startup environment, including strong universities, a good presence of venture capital companies, and a good quality of life. Of course, Ballmer also expressed his belief that Microsoft's products could aid startups in getting their companies off the ground and flourishing.
"I was delighted to be asked by our friends at Chicago's 1871 to help moderate Steve Balmer's visit," said Rutenbar. "Steve gave an insightful and energetic update on Microsoft's products and vision, and it was a pleasure to interview him for our large and enthusiastic audience."
The event was covered in the Chicago media: