Professor Michael T. Heath Wins 2009 IEEE Taylor L. Booth Education Award
University of Illinois computer science professor Michael T. Heath has been selected as the 2009 recipient of the IEEE Computer Society Taylor L. Booth Education Award for his "contributions to computational science and engineering education, curriculum, and scholarship."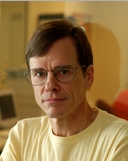 The Taylor L. Booth award commemorates outstanding records in computer science and engineering education. Given annually by IEEE Computer Society, the award recognizes achievement as a teacher of renown through writing an influential text; leading, inspiring, or providing significant education content during the creation of a curriculum in the field; or inspiring others to a career in computer science and engineering education.
Prof. Heath is Fulton Watson Copp Chair in computer science, and has served as interim head of the department since August 2007. Heath joined the University in 1991, and has been an influential educator ever since. His students consistently remark about his clear commitment to students, his ability to engage students in difficult subject matter, and his propensity to go above and beyond on behalf of his students.
"Mike is great at motivating each lecture, very organized and methodological in his presentations, and he cares a lot about his students. Mike's numerical analysis course was one of my most enjoyable classes while I was a student at Illinois," said Thomas Kwan, Director of Research Operations at Yahoo! Research.
Through his numerical analysis courses, Prof. Heath has inspired students across generations, including Celso and Luiz Mendes.
"I had the pleasure of taking a Numerical Analysis class with Prof. Mike Heath in the Fall of 1991, towards my PhD in Computer Science," said Celso Mendes (PhD 97). "That was Prof. Heath's first semester at Illinois. In that class, I was delighted to see his steady ability to explain concepts in a crystal-clear fashion, making those concepts look so simple, regardless of their complexity. Some years later, as a member of my thesis committee, Prof. Heath again provided excellent comments and suggestions for my research in parallel computing."
Celso Mendes so valued his interactions with Prof. Heath that some years later, he insisted that his son Luiz, a CS undergraduate, enroll in a class with Prof. Heath.
"By doing that, as a dad, I was very sure that my son would benefit in several fronts. I knew he would be getting an education from an outstanding instructor, with the highest level of technical background, and a constant commitment to the success of his students."
Luiz Mendes took his father's advice and enrolled in not one, but three courses with Prof. Heath. Luiz recalled his experiences: "The second course I took from Prof. Heath, Numerical Linear Algebra, was unconventional in its format; it was extremely interactive, with classroom discussions being a key aspect of the course. Being able (and expected) to discuss interesting problems with Prof. Heath every class was truly remarkable."
"Prof. Heath also served as a great mentor to me outside of the classroom, providing me with invaluable academic and career advice," continued Luiz. "I … know that regardless of where I end up, Prof. Heath will continue to be a mentor and role model to me."
Heath has served as editor of the SIAM Journal on Scientific Computing, SIAM Review, and the International Journal of High Performance Computing Applications, as well as several conference proceedings.
Heath is also author of the widely adopted textbook "Scientific Computing: An Introductory Survey," 2nd edition, published by McGraw-Hill in 2002. In 2000, he was named an ACM Fellow by the Association for Computing Machinery. In 2002, he was elected a member of the European Academy of Sciences, and in 2007 he won the Apple Award for Innovation in Science.
The award is named after Taylor L. Booth, a professor of computer science and engineering at the University of Connecticut, his alma mater, and director of the university's Computer Applications and Research Center. His name was on the ballot as a candidate for president-elect of the Computer Society when he died of a heart attack on October 20, 1986.