Professor Emeritus David Liu Receives Phil Kaufman Award
University of Illinois computer science professor emeritus Dr. C. L. David Liu will be presented with this year's Phil Kaufman Award for Distinguished Contributions to Electronic Design Automation (EDA). The Phil Kaufman Award honors individuals who have made an impact on the field of EDA and pays tribute to Phil Kaufman, the late industry pioneer who turned innovative technologies into commercial businesses that have benefited electronic designers.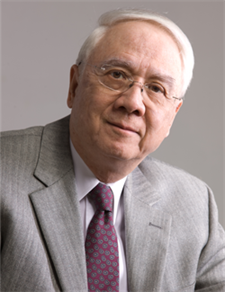 Dr. Liu is a distinguished engineer and educator, and an astute business leader. He was a professor at the University of Illinois at Urbana Champaign from 1973-1998. After his return to Taiwan in 1998, he became president of National Tsing Hua University until 2002, where he also serves as the William Mong honorary chair professor of Computer Science.
Early in his career, Dr. Liu led the transformation from ad hoc EDA to algorithmic EDA. He was an early advocate for more rigorous design automation, arguing that powerful, formal algorithmic techniques were essential to the effective solution of complex design automation problems. His technical contributions are at the foundation of a multitude of current EDA tools within several disciplines, including behavioral synthesis, logic synthesis and physical design.
His technical impact includes the first floorplanning algorithms and scheduling algorithms for hard real-time tasks. His research on floorplanning received DAC's Best Paper Award in 1986 and has been widely regarded as seminal. Dr. Liu's work on Rate Monotonic Scheduling (RMS) is a cornerstone of modern scheduling theory, applicable in the design of real-time operating systems. As of today, his 1973 paper on the subject has over 7,000 citations.
"We should not be surprised when one of our community's leading technical contributors has remarkable leadership and business skills as well," observes Rob A Rutenbar, Abel Bliss professor and head the Department of Computer Science at the University of Illinois at Urbana-Champaign, a colleague of Dr. Liu's for more than 25 years. "But neither should we fail to notice when a colleague like David Liu manifests in such an impressive sphere of activities, visible worldwide."
States Andreas Kuehlmann, senior vice president of R&D at Coverity and president of CEDA: "David Liu has done fundamental and seminal work in EDA. His contributions have been incorporated in various tools and have impacted numerous market segments. Many of his students, influenced by his passion for EDA, have made their own impressive marks in our field. David Liu is a respected figure and well deserving of the Phil Kaufman Award."
Over the past 12 years, Liu's contribution to Taiwan's semiconductor industry has been broad and significant. He serves as chairman of the board of TrendForce, a market intelligence provider in the DRAM, LED, LCD and Solar Energy technical segments. He is a member of the board of Powerchip Semiconductor Corp., United Microelectronics Corp., MediaTek and Macronix International Co., Ltd. Additionally, he is a member of the board of Anpec Electronics Corporation, Andes Corporation, and Cadence Methodology Service Company.
He has written several Computer Science textbooks, including "Introduction to Combinatorial Mathematics," 1968; "Linear Systems Analysis," with J. W. S. Liu, 1975; "Elements of Discrete Mathematics," 1977, (2nd edition 1985); and "Pascal," with G. G. Belford, 1984.
Dr. Liu received a 1998 Technical Achievement Award from the IEEE Circuits and Systems Society and was presented with the IEEE Real Time Systems Technical Committee in 1999 for his seminal work on real-time scheduling.
As an educator, he has been presented with the 1994 IEEE Education Medal, the 1992 IEEE Computer Society E Taylor L. Booth Education Award, and the 1990 ACM Karl V. Karlstrom Outstanding Educator Award. Currently, he serves on the Board of Yuan Ze University, and Asia University in Taiwan.
Dr. Liu received a Bachelor of Science degree from the National Cheng Kung University in Taiwan. He graduated from Massachusetts Institute of Technology with S.M., Electrical Engineering, and Doctor of Science degrees. He received Honorary Doctoral degrees from the University of Macau in Macau, and the National Chengchi University in Taiwan. He is a member of Academia Sinica and a Fellow of both IEEE and the Association for Computing Machinery (ACM).
For the last six years, he has hosted a weekly radio show on technology, natural science, social science and literature in Taiwan. He has published three essay collections based on the presentations in the show. One of them is a 2011 winner of a book award in the category of popular science.
About the EDA Consortium
The EDA Consortium is the international association of companies that provide design tools and services that enable engineers to create the world's electronic products used for communications, computer, space technology, medical, automotive, industrial equipment, and consumer electronics markets among others. For more information about the EDA Consortium, visit www.edac.org.