With One Year to Go, Grainger Match Multiplies Impact of Scholarship Gifts
David Simon (BS CS '05) said he believes in the direction of the Computer Science program – particularly what he sees as growing emphasis on hands-on and group-based work that reflect his day-to-day job as manager of data warehouse development for Sirius XM Radio in New York City.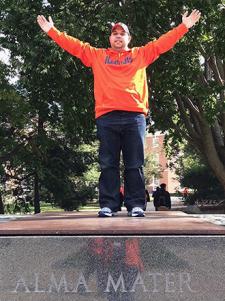 "That's more how the real world thinks. In the business world, I'm never working on a project by myself," Simon said.
But knowing the impact of his gift would be multiplied was an important bonus.
"I know what I do is doubled," Simon said.
--
When
Amy Moore-McKee (BS CS '82)
was given a $1,000 scholarship to use as she chose as part of the Society of Automotive Engineers' Sid Olsen Engineering Executive of the Year Award, she thought back to the doors her degree opened as she began her career and decided to put the money toward the Computer Science Visionary Scholarship fund.
Her CS degree, she said, "got me my start. I was grateful for the degree and the amount of credibility that came with it."
Now, more than 30 years into her career, she is the Director of Engineering for Caterpillar Inc.'s Global Mining Design Center, leading a group of more than 300 design engineers. Philanthropy, and making sure her gifts have the maximum benefit through programs such as the Grainger Match, are an important part of her professional life.
"I think it's important to give back to our communities," Moore-McKee said.
--
Working at Google, Paul Nash (BS CS '98) saw the chance to donate to the Computer Science Visionary Scholarship fund as a chance to align his own philanthropy with an initiative that's also important to his employer – recruiting and training people from underrepresented groups for STEM careers.
"That really resonated because in the last year or so at Google, there's been a lot of work going on to start to really address our diversity challenge in the industry," Nash said.
The Grainger Match only served to increase the impact.
Nash is a Group Product Manager with Google Compute Engine.
--
The Grainger Matching Challenge runs through 2019.
It was launched in 2017 by The Grainger Foundation to match all donations made to scholarship endowments in the College of Engineering, including the Engineering Visionary Scholarship Initiative and the CS Visionary Scholarship Fund --up to $25 million.
Find out more about the Grainger Matching Challenge.