Nahrstedt Appointed to CRA's Computing Community Consortium Council
Klara Nahrstedt, the Ralph and Catherine Fisher Professor of Computer Science at the University of Illinois, is one of six new members selected to the Computing Research Association's Computing Community Consortium Council.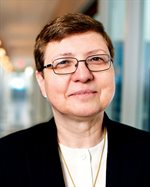 The CCC Council is instrumental in leading CCC's visioning programs, which help create and enable visions for future computing research. The council consists of 20 members, who serve staggered three-year terms that rotate every July
"I am greatly honored to be nominated and elected to the CCC Council since this organization fosters new research directions, influences the community and policy makers, and provides a vehicle to make a major impact in computing and society," said Nahrstedt, who is also acting director of the Coordinated Science Lab. Nahrstedt hopes to raise the importance of the three "I's": system integration, interdisciplinary research, and heterogeneous interconnectivity. "System integration issues will need to become first-class considerations in our academic computing curricula and research, due to the highly interdisciplinary nature of societal problems and the large diversity of interconnected computing components," she said.
Nahrstedt's research interests lie in the area of 3D teleimmersive systems, mobile systems, Quality of Service (QoS) and resource management, Quality of Experience (QoE) in multimedia systems, and real-time security in mission-critical systems.
She is the co-author of noted textbooks "Multimedia: Computing, Communications and Applications," published by Prentice Hall, and "Multimedia Systems," published by Springer Verlag. She is the recipient of the IEEE Communication Society Leonard Abraham Award for Research Achievements, University Scholar, Humboldt Award, IEEE Computer Society Technical Achievement Award; the former chair of the ACM Special Interest Group in Multimedia; Fellow of ACM and IEEE; and Member of German National Academy of Sciences. She was the general chair of ACM Multimedia 2006, ACM NOSSDAV 2007, and IEEE Percom 2009.
With Nahrstedt's appointment, Illinois will maintain a representative on the council. Josep Torrellas, Illinois professor of computer science and Willet Faculty Scholar, is stepping down after completing a three-year term.