LaValle Named University Scholar
University of Illinois computer science professor Steven LaValle was among seven Urbana campus faculty members recently recognized as University Scholars. The program recognizes excellence while helping to identify and retain the university's most talented teachers, scholars and researchers.
Professor LaValle is a world leader in motion planning, a fundamental research area in robotics that also has other research and commercial applications, ranging from computational biology to virtual prototyping, architectural planning, and video-game design. His Rapidly-exploring Random Tree (RRT) motion planning algorithm has seen wide adoption, including implementations in the top robotic software libraries. LaValle's most recent work is focused on determining the minimal sensing requirements needed to solve tasks, by using machines that combine sensing, actuation, and computation.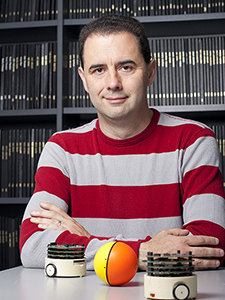 Planning Algorithms, LaValle's highly-cited textbook, has helped to reshape the robotics landscape by mathematically unifying subjects that had been traditionally separated within robotics, control theory, artificial intelligence, and computational geometry. The free version of the textbook is in use worldwide and has been downloaded over one million times.
Begun in 1985, the University Scholars Program recognizes faculty excellence in teaching, scholarship, and service on the three U. of I campuses. Each scholar is provided with $10,000 per year for three years to use to enhance his or her academic career. The money may be used for travel, equipment, research assistants, books or other purposes.??