Illinois CCT Featured in IEEE Computer Magazine Cover Story
The Illinois Cloud Computing Testbed was featured a cover article in the April 2010 issue of IEEE Computing Magazine. CCT researchers and computer science faculty Michael Heath, Roy Campbell, and Indranil Gupta, and computer science PhD student Steven Ko were contributing authors of the article. The article explores the costs and benefits of cloud computing architectures and discusses the Open Cirrus cloud computing program that includes the Illinois CCT.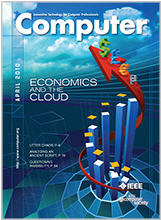 From the article:
There is growing interest in cloud computing within the systems and applications research communities. However, systems researchers often find it difficult to do credible work without access to large-scale distributed data centers. Application researchers could also benefit from being able to control the deployment and consumption of hosted services across a distributed cloud computing testbed.
Read more at: http://www.computer.org/portal/web/computingnow/0410/whatsnew/computer-r