Groundbreaking CS + X Degrees Expand Into Advertising, Economics, GIS, and Philosophy
The roster of revolutionary CS + X degrees is growing by four this fall with the additions of bachelor's degrees in CS + Advertising, CS + Economics, CS + Geography & Geographic Information Science, and CS + Philosophy.
Illinois Computer Science is joining with the Charles H. Sandage Department of Advertising, Department of Economics, Department of Geography and Geographic Information Science, and the Department of Philosophy to offer the four new blended undergraduate degrees.
The CS + X degrees, many the firsts of their kind, offer a solid grounding in computer science with training in the arts or sciences that allows students to bring computational skills to fields where they are increasingly in demand.
The four new degrees join existing bachelor's degrees in CS + Anthropology, CS + Astronomy, CS + Chemistry, CS + Crop Sciences, CS + Linguistics, and CS + Music, as well as two other blended bachelor's degrees: Mathematics & Computer Science, which has been offered since 1964, and Statistics & Computer Science, added in 1988.
A look at the four new degrees:
CS + ADVERTISING
Like so many industries, the advertising business has been radically changed by technology, and that change has created opportunity for people who can bring computational skills to the traditional arts of persuasion and ad targeting and placement, said
Hari Sundaram
, an associate professor who holds a joint appointment between Computer Science and Advertising.
"We still have advertising agencies, but Google is the proverbial 800 pound gorilla in the room," Sundaram said. "The driving power is actually with these internet tech companies, and these traditional advertising firms realize that."
How and where do the two disciplines intersect?
The new degree grew out of that overlap between the traditional advertising industry and the technology that has spilled into it. When you do a search on Google and you see ads along with the search results, you are witnessing that technical wizardry. How ads are selected, and the order in which they are shown draw from research in the computer science sub-fields information retrieval, algorithmic game theory and machine learning.
"The language of auctions, and programmatic buying which is the basis of online advertising, doesn't factor into a traditional advertising agency's calculus. And for an advertiser to bid to place an ad the moment you visit a newspaper's web page, they need to know that your interests match their target audience; the fine grained tracking and behavioral profiling simply required for them to make a decision did not exist earlier in a traditional ad agency; today, ad agencies outsource these activities," Sundaram said. "Ad agencies want to change this because they realize they're missing out on an important source of revenue."
What are some of the jobs students could pursue with this degree?
Sundaram points to ad agencies as one obvious landing spot as they expand into analytics, but also tech firms involved in advertising, such as Google. He also expects more entrepreneurial activities as technology continues to transforming advertising.
When would the first students enroll and how many do you expect?
Sixty-five students have signed up for the first available class this fall, and students pursuing majors initially will be capped at 50.
---
CS + ECONOMICS
Despite what
Melissa Newell
calls a natural overlap between computer science and economics, the new Illinois degree is believed to be the first of its kind. Newell is associate director of Undergraduate Studies in the Department of Economics.
There may be few disciplines more affected by the advent of big data than economics, and that is helping drive interest among employers in economics students who have strong computation skills, Newell said.
"There is an increasing need for more sophisticated skills to examine large administrative datasets," she said. "Thus combining the curriculums will produce students able to write their own code and develop their own software for analyzing these data sets."
How and where do the two disciplines intersect?
The overlap between the two is quite natural, Newell said. In addition for the need for economics students to delve into large datasets, CS students will be able to add analytical and critical-thinking skills by taking economics courses.
What are some of the jobs students could pursue with this degree?
The list of potential employers and careers is long, among them a variety of analyst positions and other jobs with financial services firms such as Capital One, CitiBank, Goldman Sachs, and Wells Fargo, as well as manufacturers such as Deere & Company and Northrop Grumman. Newell also says the degree would be good preparation for graduate school.
When would the first students enroll and how many do you expect?
Students already on campus can become CS + Economics majors this fall, and Newell expects about 10 to enter the program. Students will be able to apply as a new freshman for Fall 2019.
---
CS + GEOGRAPHY & GEOGRAPHIC INFORMATION SCIENCE
One of the most fundamental aspects of computer science – data – usually carries with it a geospatial component.
"In other words, everything happens somewhere!" says Julie Cidell, a professor in the Department of Geography and Geographic Information Science. "Geographers are trained to analyze spatial data, and geographic information science helps us develop new tools for that analysis and to solve geographic problems."
The new CS + GIS degree will allow students to apply computational thinking to those problems.
How and where do the two disciplines intersect?
At Illinois, that intersection is longstanding. The Department of Geography and Geographic Information Science is already the national leader in CyberGIS, the use of high-performance, large-scale computing to answer geospatial questions.
"It therefore makes sense to have a program that helps students not only develop advanced programming skills to handle geospatial data, but to come up with new ways to think about and analyze that data," Cidell says.
What are some of the jobs students could pursue with this degree?
GIS is growing fast as a field, and Cidell says recent graduates have gone to work in real estate, energy consulting, intelligence analysis, logistics management, transportation planning, utilities, computer programming, and business analysis.
When would the first students enroll and how many do you expect?
Enrollment is open for Fall 2018, but Cidell anticipates just a couple of students in the first year.
---
CS + PHILOSOPHY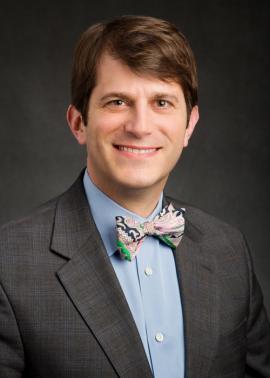 Of all the links between the liberal arts and computer science,
Kirk Sanders
believes philosophy claims the oldest.
"One of the first computing devices, an adding machine, was created in the 1640s by the philosopher Blaise Pascal," says Sanders, who is head of the Department of Philosophy and an associate professor of classics.
More recently, the work of foundational computer science thinkers such as Alonzo Church, Emil Post, Alan Turing, John von Neumann, and Kurt Gödel was as equally at home in philosophy and computer science departments, Sanders says.
"The work of these figures posed questions regarding the nature of algorithms and computation, whether computers can think, and so on," he said.
How and where else do the two disciplines intersect?
Sanders also points to the increasingly important intersection of computer science and ethics, and says the Department of Philosophy hopes to add a specialist in computational or computer ethics.
What are some of the jobs students could pursue with this degree?
Sanders points out that philosophy majors are among the highest-scoring takers of the LSAT, and have the highest rates of acceptance to medical schools. He also notes that graduates with philosophy backgrounds go on to a wide range of careers – financiers such as Carl Icahn, journalists like Juan Williams and the late film critic Gene Siskel, and tech executives such as former Hewlett-Packard CEO Carly Fiorina.
When would the first students enroll and how many do you expect?
The program will officially open this fall, and Sanders anticipates five to 10 majors per year beginning with the 2019-20 academic year.