GEMS Camp Introduces Middle School Girls to Computer Science
For two weeks starting June 17, the halls of the Siebel Center were filled with some atypical sounds—the laughter of 11- and 12-year-old girls. These middle school girls were here to participate in the 2013 Girls Engaged in Math and Science (GEMS) Camp.
Led by CS Lecturer Cinda Heeren and CS Sophomore Bri Chapman, the week-long GEMS camp introduced 49 girls from the Urbana-Champaign area to computer science. The camp was given twice: June 17-21 and June 24-28.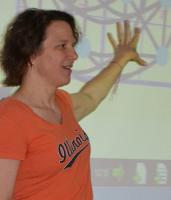 The GEMS curriculum focused on the ways in which computing impacts the food industry. A visit to the market at the Illini Union (featuring produce from the student sustainability farm) and guest speakers representing perspectives on the local food industry were held.
Students developed food-themed apps for Google Nexus tablets using AppInventor, a drag and drop instructional program for Android systems. "App Inventor is an entry level programming system, but it is powerful," said Chapman. "We were excited to see what the girls came up with."
Chapman has a long history with the camp. Seven years ago she was a GEMS participant herself, and this marks her third year as a camp leader.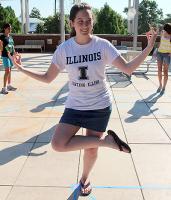 Heeren and Chapman both felt that the camp went extremely well, and that the participants had a great time learning. Chapman said, "Those girls flew through almost everything I had planned for the week in the first day, and it just happened because they were happy and excited and enthusiastic."
One of the key aspects of the camp was fostering collaboration. Students worked in teams, and the instructors made each group member responsible for every other member. They all worked together to keep everyone up to speed.
In addition to the instructional parts of the program, the focus was having fun and enjoying the learning environment. There were several spontaneous dancing events that helped lighten the mood and keep the participants motivated.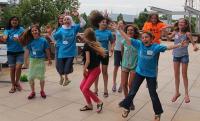 The approach worked. On Thursday of each week, the participants were given a survey comparing themselves before GEMS and after their experiences. "I would have been happy to see two surveys out of the 25 that said, 'I want to be a CS major,'" said Heeren. "But it was unanimous. Each and every girl said something like: I didn't know how to use apps; now I want to make apps. I didn't know computer science could change the world. Every single one of them had some remarkable contrast that showed that they got it."
They have already begun planning for next year: how they'll take what they've learned and bring it to a new batch of middle school girls.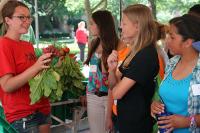 A project like this could not have happened with a great deal of assistance. Chapman and Heeren were assisted by Marrissa Hellesen, Hanan Jaber, and Jenny Ye. "And my gratitude to the CS Department has to underlie everything," said Heeren. The assistance from the department went from providing space and funding for the camp to locating plates and tableware when food deliveries did not include them. "Everyone was very gracious to us," said Chapman.
GEMS was founded in 1994 and was originally run through the National Center for Supercomputing Applications. Heeren explained, "GEMS had been hosted by NCSA for 20 years. When its founder, Edee Wiziecki, retired, we were fortunate to have the opportunity to adopt a robust and well-known program. We are proud to continue Edee's vision of a free day-camp, providing the local community with high-quality summer activities."
This year, GEMS received a National Center for Women and Information Technology's Aspire IT award for middle school outreach.