First Class of MCS-DS Graduates Join the Data Science Revolution
In his position as a senior director with McKesson Corporation/RelayHealth, Ashish Kumar didn't have a lot of time to study data science. He tried to make the most of the resources he found online, but judged most of them to be shallow.
But Kumar found something else when he enrolled in Illinois Computer Science's new online Master of Computer Science in Data Science program.
"I knew it was time to dive in, gain proper knowledge, and equip myself with appropriate skills," he said.
In May, Kumar was one of the first 15 graduates of the program, offered as part of the university's partnership with Coursera.
We asked Kumar and three of his fellow graduates – Titus Fong, Aruna Neervannan, and Himanshu Shah -- to tell us more about their experiences and what they plan to do with their degrees.
Titus Fong
Fong was on campus as an undergraduate studying electrical engineering in 2016 when he took on a role with fellow students in a startup specializing in wearable medical technology. He knew right away that he needed to build his background in data science.
Now working as an associate data engineer with Capital One in Texas, he saw his alma mater's MCS-DS program as a natural choice. But one factor in particular drew him to the online degree program.
"I get to take some of the graduate classes taught by world-renowned professors such as David A. Forsyth and Jiawei Han, and join their office hours, which I long heard (about) during my undergrad studies," Fong said.
Now designing and developing new data systems and architecture at Capital One, Fong says he can apply what he learned. He points in particular to one class, Applied Machine Learning, which was developed by Forsyth as a special topics class focusing on the applications of machine learning in extracting meaning from real-world datasets.
"The class has a really intense workload but I did learn a lot," he said. "As a data engineer who works closely with data scientists, I believe that class helps me a lot, bridging the knowledge gap between the data model created by the data scientists and the data system we data engineers need to develop."
He next plans to pursue a PhD in system engineering at George Washington University.
Aruna Neervannan
After earning her undergraduate degree from the University of Madras a number of years ago, Aruna Neervannan worked for years before deciding to pursue a graduate degree. The MCS-DS program made her return to school smooth and manageable, she said.
"This program made the transition to academia after a long break seamless," she said. "The flexibility that it offered helped me manage work and school."
Neervannan lives in California and, with her new degree, is working independently on a deep learning project she hopes to develop into a product.
She said the MCS-DS program allowed her to explore "a lot of hard concepts in statistics, Bayesian modeling, and machine learning that I believe will come in very handy as I delve into the deep-learning world."
Ashish Kumar
Once Kumar decided the MCS-DS track was serious enough to meet his needs, his next question was how he'd manage to juggle school and his career. He needed flexibility in when he would able to do his school work, and says he found it.
"I am a senior leader in my organization with a very busy schedule," the Bay Area resident said. "The fact that I can attend lectures and do my assignments any time during the week is great."
But, like his classmates, Kumar didn't find that flexibility required any sacrifice in academic rigor.
"The material is the same for the on-campus versus online students, which means there is no compromise in terms of quality of teaching, material, or assignments," he said.
Himanshu Shah
Shah was looking for an online way to advance his academic background, and found a number of options.
But, like so many of his fellow MCS-DS graduates, he wanted a program that provided all of the quality he would expect from an on-campus experience.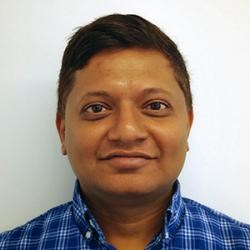 "The major disadvantage with (other) programs was the (lack of) TA sessions to help clarify and answer the questions, and interaction with other students like regular graduate courses," said Shah, who is an integration manager for the electronic payments-technology firm VeriFone.
MCS-DS filled those gaps.
It also helped the experienced manager and developer clarify his future professional path.
"By going through fundamentals of cloud computing, data mining, and machine learning, I have now a clear idea on which areas of data science I want to (advance) my career with," he said, explaining he hopes to spend his future working in machine learning and artificial intelligence.
And while he has completed his degree, Shah is not finished with online education.
"I am going to continue online courses with more specialized areas like autonomous driving and advanced machine learning to enhance my skills," he said.