CS Student to Appear on Amazon Prime's "College Tour"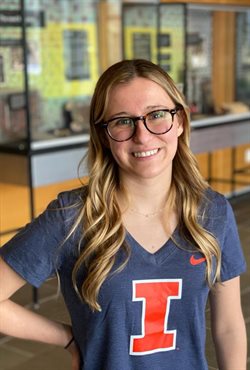 CS major Mackenzie Kirkham is one of 11 Illini who will appear in the University of Illinois Urbana-Champaign's episode of "The College Tour," which streams on Amazon Prime. This series goes across the country so students can share what makes their campus great. The University of Illinois episode will be available on May 23.
Watch the Premiere and After Show
Mackenzie Kirkham
Mackenzie Kirkham is majoring in computer science and hails from Chesterton, Indiana. Mackenzie conducted research as a member of the Social Research and Technology Innovation Laboratory, and was a member of the Gigabit Girls, an organization designed to "improve the lives of global residents." She has also participated in HackIllinois, and studied abroad at a university in Sydney, Australia.
Mackenzie will address all the opportunities she found at UIUC during her "College Tour" segment.
---
See the original Grainger Engineering story.