CS @ ILLINOIS students take on roles as partners in VC firm
Three CS @ ILLINOIS students have joined the university-focused venture capital firm Contrary Capital as venture partners.
The company has selected junior Will Robbins, freshman Nathan Ju, and graduate student Arnav Mishra to join a roster of students at 40 universities around the country looking for potential investment opportunities on their campuses.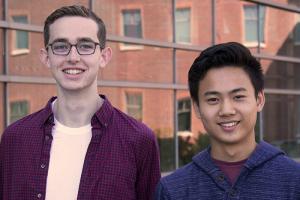 Robbins says the three were chosen after hearing about Contrary Capital and its founder, Eric Tarczynski, by word of mouth, and taking a chance that he might be interested in them.
"I cold-emailed him, told him about my interest, my experience at the U of I, and he brought me on," Robbins said.
Tarczynski worked to start the company over the past couple of years, testing his ideas and traveling to meet students around the country who might make good partners before announcing the public launch of Contrary in September. Contrary's financial backers include Twitch co-founder and CEO Emmett Shear and Tesla co-founder and former CEO Martin Eberhard, a University of Illinois graduate.
Tarczynski's idea is for student venture partners like Robbins, Ju, and Mishra to serve as eyes on the ground at their universities, spotting early-stage startups that might make good investments. According to Contrary's website, it has so far invested in two companies.
All three CS @ ILLINOIS students have entrepreneurial experience.
Mishra is an executive partner with OTCR Consulting, a student-run firm, while Robbins created an Android game app. And Ju started a company called Gosset intended to generate sales leads for other firms while he was still in high school.
"It's really exciting to start from scratch, building a company from scratch," Ju said. "I think that's' what draws me to it."
In their roles at Contrary, the three will try to tap into the on-campus culture that has fed the creation and growth of Netscape, YouTube, PayPal, Malwarebytes, and countless others.
"The U of I has such a rich history of technology startups and all of us have read so much about those," Robbins said.
"Contrary trained us on how to go about analyzing a company and sourcing deals. We have a lot of autonomy to plug into a university ecosystem how we choose," he added.
As venture partners, Robbins, Ju, and Mishra will try to find potential investment targets. If they do, they will then pitch the rest of Contrary on the idea. If that pitch is accepted, they will have a small piece of Contrary's equity in the deal.
"It's just a good way to practice being a VC," Robbins said.