CS @ ILLINOIS Alumna, and Google's Security Princess
Parisa Tabriz (BS CS '05, MS CS '07) has had many successes in her career, not the least of which is that owns the "Coolest Job Title We Know." As Google Chrome's Security Princess (yes, that's her actual job title), she keeps the Chrome browser bug free and hacker free.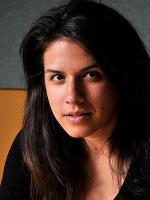 Tabriz has recently been featured on the website 60 Second Recap discussing what influenced her college decision, why she chose CS @ ILLINOIS, and why she's glad she did.
As she said in that interview, "University of Illinois has a world-class college of engineering. Studying in an environment that exposed and gave me access to incredible resources (people, research projects and labs, equipment) is a huge reason I had the opportunities I did."
She was also featured in 7x7SF as part of their 2013 Hot 20 listing. There she dispensed general advice on staying safe on the Internet. In 2012, Tabriz appeared on the "30 Under 30: Technology" list published by Forbes Magazine.