CS Alumna Drina Yue tells WCS members about her success, and the sacrifices and choices behind it
The choices that marked Drina Yue's career path were often difficult and carried the potential to radically alter not only her life, but those of her husband and daughters, too.
But as Yue told the CS @ ILLINOIS Women in Computer Science (WCS) Alumni & Student Dinner on October 19, she brought three key assets with her into every choice and transition—an infectious streak of determined optimism and two degrees from the University of Illinois.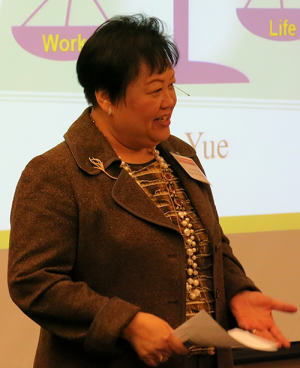 Yue (BS EE '80, MS CS '84) has had a long career on both the technical and business sides of a number of major corporations—Western Union Company, Motorola, AT&T and BellSouth among them. Now living in Hong Kong, she was back on campus to receive a Distinguished Achievement Award as part of the CS @ ILLINOIS Alumni Awards.
Yue told WCS members and others crowded into a room at the Thomas M. Siebel Center for Computer Science that they needed to cultivate a range of useful traits and skills to use as they develop their careers: passion, integrity, persistence, the ability to communicate, the ability to compromise, energy, and a positive attitude.
"When someone shows up and they're positive and they're smiling—they don't know everything, but they're willing to learn," they'll likely do well, she said. "When someone shows up very cocky, they know everything day one," they may have a rough start.
WCS members also heard Yue, who broke into the corporate world as a systems analyst with AT&T in Chicago in the 1980s, say that "honestly, traditional boundaries still exist," but that women need to focus on how to overcome them.
"If you always focus on half empty, there's always a glass ceiling," she said. "However, you look at it as half filled, (you tend to think) 'What do I need to do to make the glass full?'"
Yue also stressed the importance of working to find a good work-life balance, something she acknowledged wasn't always easy during the years she worked for Motorola as vice president of its Asia Pacific Home and Networks Mobility Business and later as Western Union's senior vice president for the Asia-Pacific Region.
Yue's work day regularly extended well into the evening, when her bosses in North America were starting their days and, at times, colleagues in Europe were heading into their afternoons.
"When I was working, my nickname was 7-11, from 7 a.m. to 11 p.m. It's a long day," Yue said. "By the time I get home and have dinner, that's when my boss wakes up.
"So is that good? It's not good. But is there a choice? Not really."
But Yue said that with the help of her husband, Kwok To Yue (PhD Physics, '83), she managed to make sure that, even if she missed events involving her two daughters, the time she could spend with them was meaningful.
"Don't let anyone tell you that because of your gender that there are certain things you cannot do, that there are certain things you must do," Yue said.
Yue's advice on trying to balance work and life focused in part on making the right decisions. Yue, for instance, said she once passed up a chance to go to law school with the cost covered because she wasn't passionate about the law.
That focus on the decision-making process resonated with senior CS major Shannon Strum, the president of WCS. Strum and other WCS members also had the chance to meet with Yue in a smaller group for coffee.
"We talked about attending graduate school vs. going straight to industry after undergrad and other decisions she's made throughout her career," Strum said. "She gave valuable advice about maintaining a good work-life balance in her keynote speech, which our members found very inspiring."