Coursera Co-Founder Delivers 2015 Mueller-Thuns Lecture
On December 1, Coursera president and co-founder Daphne Koller delivered the 2015 Robert Mueller-Thuns Lecture in Computer Science. She spoke on the history of Coursera and the impact that Coursera and massive open online courses (MOOCs) have had in their short history.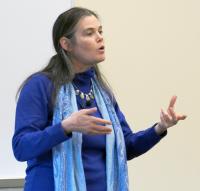 Coursera is the largest MOOC provider, with more than 15 million registered learners worldwide. Koller leads the growth and nurturing of Coursera's partnerships with over 130 universities and educational institutions. Previously, she was the Rajeev Motwani Professor of Computer Science at Stanford University, where she served on the faculty for 18 years.
Coursera developed out of a pilot project at Stanford in 2011 in which three graduate computer science courses—on machine learning, databases, and artificial intelligence—were put online for anyone to take for free. With no advertising other than a mention in a New York Times article, these courses that typically had a total of 400 Stanford students enrolled, suddenly had over 100,000 enrolled online.
"What was most striking was not the number, but the diversity," Koller said. "These were people from every country, every age group, and every walk of life that exhibited this need to have access to a high-quality education that many would never have had in any other way."
This eye-opening experience led Koller and some colleagues to form Coursera to expand on this experience and to partner with other universities in order to open up educational opportunities to people around the world.
Koller described how MOOCs have changed over time. The courses that are now on Coursera were designed for an online environment—not just versions of classroom courses put online. Course videos and other material can be reviewed as often as a learner wishes or needs over the course of a class. "In the online format, you have option to pause, reflect, maybe ask questions on a discussion forum, and get a chance to really get it before you move on," Koller said.
Among the many students who have participated in their MOOCs, Koller related some stories of learners who have greatly benefited from their experiences, including an individual for whom MOOCs provided a reentry point to college after years of employment, and a group of women in India who used what they learned through Coursera to run a successful bakery.
Looking into the future of MOOCs, Koller sees them as having a transformative impact on graduate education, specifically on professional graduate degrees. "If you have a family and a mortgage and a job, you can't just pick up and go somewhere," said Koller.
Instead programs—like the new iMBA recently launched at Illinois for the Coursera platform—could provide a way for these types of professionals to continue their education with minimal disruption to their lives. "The graduate education is becoming increasingly important," Koller said. "That's the big transformation that I think is very likely to happen."
The University of Illinois and the Department of Computer Science are both developing and providing MOOCs through Coursera. At the department level, Lawrence Angrave was the first person to teach a MOOC on developing Android apps, and the department has developed Coursera specializations on Cloud Computing and Data Mining. These specializations are targeted sequences of courses that end with a capstone project. Participants who complete these specializations receive a certificate to demonstrate their mastery of the subject material.
A video recording of Dr. Koller's 2015 Robert Mueller-Thuns Lecture is available online.
Robert Mueller-Thuns Lecture in Computer Science
The Robert Mueller-Thuns Lecture in Computer Science was established at the University of Illinois through memorial gifts by his wife, Nikki Mueller-Thuns Mirghafori (BS '91), family, friends, and colleagues. Robert thrived and made life-long friends at Illinois and it is hoped that the Mueller-Thuns Lectureship in Computer Science will give the chance to others at Illinois to think more, learn more, and do more as an appropriate memorial to a man whose intellectual intensity, integrity, and vibrancy made him an inspiration to all who knew him.