Christopher Kull's CS Visionary Scholarship Let Him Know Illinois CS 'Really Wanted Me'
In the summer of 2018, Christopher Kull felt battered and bruised by a college admissions process that included more than one rejection, but relieved to have finally landed at the Top-5 computer science program at Illinois.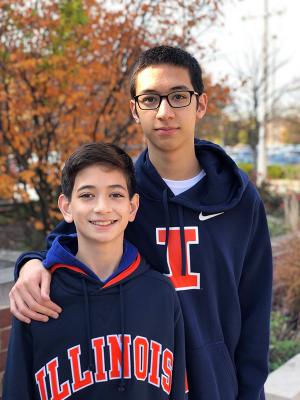 But scrolling through his email on July 18, 2018, a message with the subject line "Congratulations!" lifted his spirits higher than they had been in a while, and erased his lingering doubts that he belonged.
Kull had just received a Computer Science Visionary Scholarship, a powerful tool for Illinois Computer Science undergraduate students provided by donors to the program.
"I opened the email and it took me a moment to comprehend what I was reading. I quickly told my parents and they were just as surprised and happy as I was," said Kull, a sophomore from Palatine in the Chicago suburbs. "Getting the CSVS finally put that doubt to rest. UIUC really wanted me."
CS Visionary Scholarships open doors at Illinois Computer Science for the most-deserving and highest-achieving undergraduate students from all backgrounds. The large, renewable scholarships are backed by generous alumni. And through the end of 2019, any donations to the fund will be doubled by The Grainger Matching Challenge (or even quadrupled if the donor's employer has a matching gift program of its own).
In financial terms, Kull's scholarship eased the burden on his family – "My parents still need to send my two younger siblings to college," he said.
But in educational impact, the scholarship has financed the first year of what so far has been a life-altering experience.
First, he says, he's amazed by the people around him. In his class of roughly 300, Kull found what he describes as "smart and incredible" classmates.
"Some have been coding for a long time and their level of expertise is incredible," he said. "Others started in August in last year and progressed way faster and better than I did when I originally picked up coding."
Kull also has had the chance to meet and get to know some of the generous donors who made his scholarship possible, people who themselves have already put their own stamp on the computing landscape like Sandra Rankin (BS CS '74) and her husband, John Rankin (BS Math & CS, '72).
Sandra Rankin, now retired, was a vice president at IBM. In that role she worked with many of vendors in the computer industry to set standards for Internet technologies such as Java and XML.
"Sandy talked about her early days at IBM and how she helped push Sun Microsystems to make Java a public language. … Java was originally going to be just another internal language, but she used her influence at IBM to open Java up, and the impact it has had on the tech world is incredible," Kull said.
John Rankin also had a long, successful career at IBM, doing performance analysis work.
"Prior to meeting (the Rankins) I had never met someone who had been in the software industry as long as they have, and they have truly seen the evolution of technology," he added.
For their part, the Rankins have made an ongoing commitment to the department, too. They fund the Sandra L. and John P. Rankin Engineering Scholarship, in addition to donating to the Visionary Scholarship fund.
His graduation is still several years off – 2022 – but Kull sees himself possibly going on to graduate school, and maybe working for a startup at some point.
For now, though, he says he is content to explore computer science while he tries to find the lane he likes best.
"I am preoccupied by figuring out what small portion of the large major that is Computer Science that I would like to learn more about," he said.